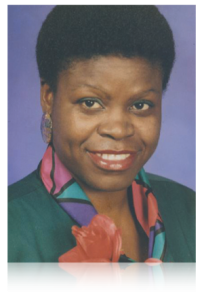 Edna Taylor was born in the spring of 1951, fifth of eight children and fourth daughter of Mary Louise, nee DeCosta and Richard Alexander Taylor. Fortune Island, Bahamas is her birth place; a tiny but essential pivotal port, for Trans-Continental shipping between Europe and the Americas.
Her family boarded a slow mail boat called the Air Pheasant, in the summer of 1959 and sailed off to Nassau, the Capital of the Bahamas. There, she met her father's huge family for the first time. It was also the first time she and her siblings had ever seen or ridden in a motor vehicle. They were very excited riding in the back of that green 1957 Ford Pickup truck which transported them to the new home her father had built on Market Street in The Grove.
She attended Southern Junior School and in 1964, A. F. Adderley High School. After a short stint at College of the Bahamas, she worked for the prestigious Bahamas Electricity Corporation.
In 1973, she left Nassau and moved to New York City. She got married and raised a family of three wonderful children: Ayana Brown, Laura Spence and David Spence. Here is where she began dabbling in writing her fast and furious thoughts, filling a void in her life. She received a well-written rejection letter from Scott Meredith Literary Agency, Inc. in response to her first manuscript. She cried a lot and stopped writing. But the moral here is: Rejection letters are not meant to keep a good gift down. And so, she writes.
Join My Mailing List!
Would you like more information about this book?
Please fill out the form below so that I can add you to my email distribution list.
I thank you in advance for your interest!